2017 Popular Horse Statues Gallery
bronze race horse statue vintage brass horse statues
How to make bronze horse sculpture
Step1: search abundant design pictures of horse from all angles and making 1:1 clay mold.
Step2: turning mold. Gypsum for simple design, silica gel for complicated design.
Step3:irrigating wax. Put the melting paraffin into the completed gypsum model or silica gel model, unpack the model when then paraffin is cold, the wax model is finished.
Step4: covering the wax model with silica sand layer by layer.
Step5: Casting. Traditional lost-wax process.
Step6: polish, joint and treatment of weld.
Step7: staining, apply oil, sealing wax.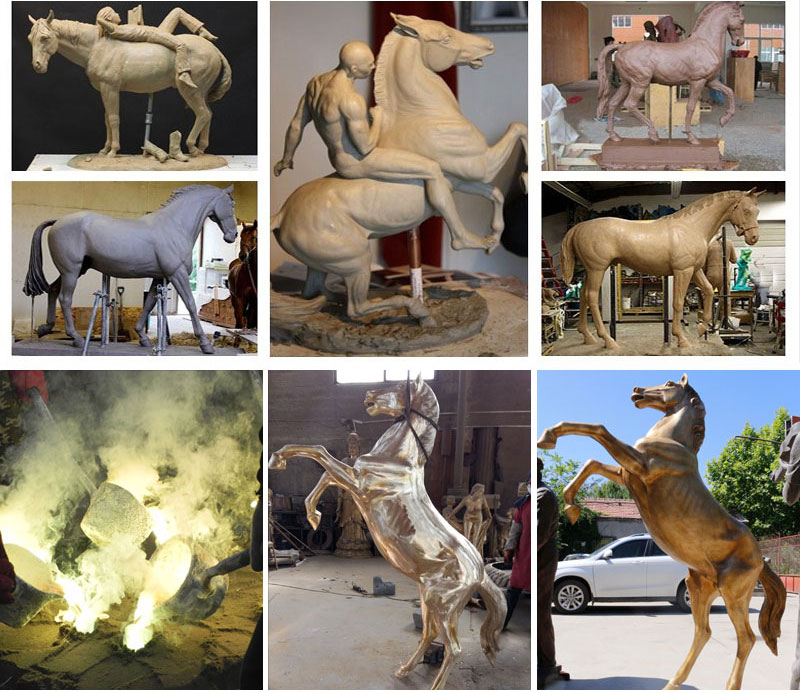 WHY CHOOSE YOUFINE
As a leading manufacturer of bronze sculpture with more than 30 years experience, you fine specialized in bronze horse of different style: life size bronze horse, antique bronze horse, bronze running horse, bronze standing horse, bronze jumping house, Chariot, etc. Available size is from 70cm to 18ocm or even more higher.
★.struction calculation, offer design.
★.make 1:1 clay mold.
★.fabrication(bronze forging, bronze casting, mixing metal sculpture fabrication etc) sculpture polishing.
★.oversea installation.
★.quality inspection.
★.Door to door delivery.
★.buy full insurance for every sculpture, help client avoid risk.

For the decade past, You Fine Art Sculpture has finished thousands of sculpture' fabrication and installation in worldwide. We have worked with artists from UK,U.S, Europe, Australia, Middle East etc. All the works we completed are highly recommended by our clients.
Standing Horse Scultpure for sale
Rearing Horse Sculpture for sale
Eating Grass Horse Sculpture for sale
Horse Figurines for sale