Horse Breeds
Tennessee Walking Horse Profile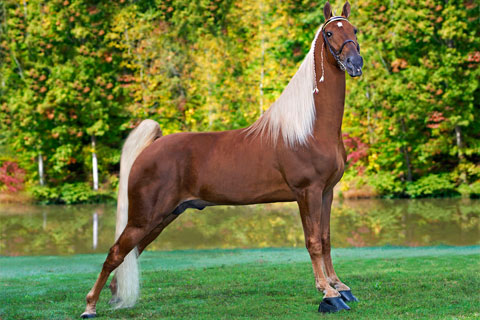 Country of Origin: North America
Use today: Today, Appaloosas can be found at gaming events, horse shows and on the trail.
Color: With coat patterns, countless numbers of color and pattern combinations exist.
Height: 14.2 to 16 hands
Profile: The Tennessee Walking Horse is an American original, developed in central Tennessee in the late 1800s. The horse's genealogy includes a mixture of breeds that settlers brought with them, such as Morgans, Narragansett Pacer and Canadian Horses. One characteristic of this new breed was the horse's smooth gait, which was later called the running walk. This gait replaced the ordinary bouncy trot and made it easy for farmers, deliverymen and doctors to sit for hours in the saddle. The Tennessee Walker is shown English and western, and they are prized mounts for leisure riding and trail.
Characteristics: The Tennessee Walking Horse is a noble looking animal with a straight profile and an upright build. In the running walk, each hoof hits the ground independently; the gait can be as fast as the canter. The smooth canter is often described as a "rocking chair" canter. The horses are shown flat shod (Plantation Walker) or with weighted shoes (Performance Horse). The Tennessee Walker stands from 15 to 16 hands high and can be found in the following colors: black, bay, chestnut, sorrel and white.
You Fine Bronze Horse Statues Profile
You Fine was founded since 1983,which is specialized in bronze casting with a great expanding in all fields of Sculpting Business during the past 30 years.Mainly operating production contains Standing Horse,Jumping Horse,Horse Racing,Horse Trophies ,Horse Figurines
No matter the style you are looking for,You Fine is sure to have many selections to suit your personal decor and lifestyle for bronze horse statue &sculpture .
A good quality bronze horse statue,not only need nice design,but also good casting quality. We are always proud of our casting quality. With advanced lost-wax casting,finest welding & chasing skills,excellent patina and best bronze raw material,we always supply art-quality casting.